Many of us are chronically dehydrated, but that doesn't have to be so.
Many of us drink tap or bottled water, which I don't recommend, as it has lost its natural living structure, has contaminants in it, etc.
When you add freshly squeezed lemon juice, you "wake up" the water and it comes back to life, allowing it to go more deeply and carry the essential nutrients and compounds you need in order to thrive.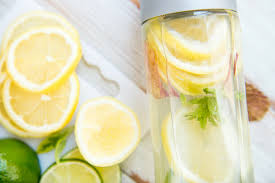 Lemon water is also wonderful for weight loss, supporting the immune system and digestive tract, alkalinizing the body, controlling high blood pressure, slowing down aging, detoxifying, purifying the blood, and regulating body temperature.
Lemon water is particularly helpful for the digestive tract and can relieve constipation, nausea, and even parasites. Lemon water is also good for the cardiovascular and muscular system making it an ideal sports drink.
Life-Enhancing Lemon Water
Ingredients:
1 tsp. of fresh ginger root or more, grated

16 ounces of filtered water (I purchased 16-ounce mason jars for efficiency)

½ fresh lemon juice (save the pulp and throw in smoothies)
1 tablespoon raw honey, local if possible
Preparation: Grate the ginger into a mason jar. Add water, lemon juice, and honey. Stir or blend if needed. Sip throughout the day or first thing in the morning on an empty stomach (wait at least 15 minutes before consuming food or drink).

Nutritional Nugget: You don't have to add the ginger and honey, and they do enhance this already gorgeous drink. Ginger, among other things, is an immune booster and honey is "…saturated with more than 200,000 undiscovered phytochemical compounds and agents, including pathogen-killers, phytochemicals that protect you from radiation damage, and anti-cancerous phytochemicals."
For more nutritional nuggets and recipes check out my book. It's not just for families with picky eaters.


#nutritionstrategies #livedeliciously #ignitethehealingmechanism #supportthebodysoitrepairsitself #lettherealyoucometothesurface #medicalmedium #davidavocadowolfe #awakenyourmind #energizeyourbody